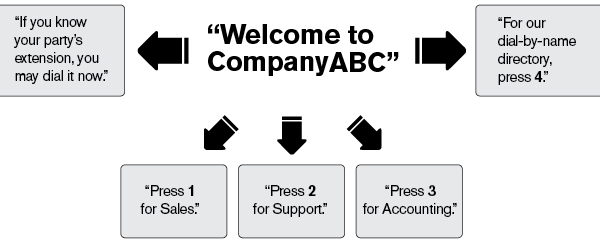 Companies have turned to Virtual Receptionist or IVR service to save time and reduce operational expense. It's a great idea!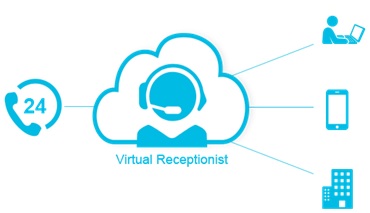 Get a Virtual Receptionist @ fraction of cost of a real PBX
Get a 1-800 Toll Free or Mobile Number or use your own number!!!
Record welcome greeting with options
Map multi-departments – Sales, Admin, Support
Forward calls to multiple devices/extensions
Record all customer calls
Voice Mail Feature
Missed call voice mail via email
Office Timing setup/Festival setup
Transfer calls based on language preferences
Check/Download Call Detail Records(CDR) online
In-call Transfer
Blacklist a number/Enter comments
24 Hours Sticky Agent
Industry best web control panel
SMS Alerts
Click2Call CRM Integration
Outbound Calling
More……
---
UNLIMITED MINUTES IVR Plan in Rs 1200+taxes/month/Channel (Min quarterly)
Toll Free number plans starting at Rs 11999+taxes !!!!!
Mobile number plans starting at Rs 5999+taxes !!!!!
(Annual plans and T&C apply)
Check our Cloud Call Center Solution with Auto-dialer under Rs 4000/month with 5 agents
IF YOU ARE GETTING A BETTER PRICE ANYWHERE ELSE WE WILL BEAT IT. Call us at 9599 039 039
We will provide you a custom created voice greeting at no extra cost on top of the reliable solution you get. We can also help companies to improve their image with professional voice actor created greetings. Our web control panel is best in the industry as proven by our customer testimonials. Nobody provides more features and reliability then we do. Check our Video Demo above!
---
"Customer Testimonials"
"Much better than any vendor Panel" ….. A reputed Cab company in India
"Voice Mail audio over email is great. We never miss a call"…… Ayurvaid.com
"We can download all call records and recordings so easily"…… Indian Human Rights Commission
"Virtuo created geographical based call routing to our over 50 office in India"…… An Educational Institute
---
Virtual Receptionist – Frequently Asked Questions
What is the Virtual Receptionist service?
Virtual Receptionist/IVR is a Auto Telephone Answering Service where a welcome greeting plays as soon as a customer calls your number and based on the selection calls can be routed to right people/dept. Virtual Receptionist is available in standard and advance versions. In standard version features like welcome greeting, office hours setup, call forwarding, voice recording, sorry message configurations are available. In advance add on multi-level menu, multi-department features are available. In advance version, you can automate a complete IVR /call center before transferring the call to the executive of a particular department.
Who can use Virtual Receptionist?
Any business that requires a professional receptionist to answer and route their telephone calls such as Individuals – franchisers, lawyers, accountants. Companies like – Recruitment, property dealers, insurance, travel, restaurants, hotels, web development, car service industry etc. Virtual Receptionist can be easily and effectively used by any size of company – small or large. Our plans cater to all type of segments.
How does the IVR service work?
We allocate a single phone number (mobile/landline/toll free) to you, which is integrated with our cloud telephony system. When a customer calls phone number provided by us, he/she is played out a welcome greeting and call is forwarded to a number from the pool of configured numbers. All calls can be recorded and stored for quality and monitoring purpose.
What do you mean by single phone number?
To receive calls we allocate a single 10-digit number or a Toll Free-1800 number. Single number is used to configure all the call flow. Enterprise can publish these numbers to their users.
How many calls can be handled by the System?
Virtual receptionist/IVR service is a fully scalable platform. We provide solutions starting from single channel to up to hundreds of channels. You can opt from single channel, three channels, five channels etc. based on your call volumes. Our support team can help you in providing the right provisioning based on call traffic expectations.
Is there any charge on voice recording?
No, all Virtual Receptionists' features – call forwarding, call recording, computer recorded greetings are part of the solution. We do not charge any thing extra for voice recording.
How can I set up Virtual Receptionist service for normal business hours and the 24 x 7 service?
You can set up your office working time (9AM to 6PM). Callers are greeted with welcome message and calls are transferred to the executives. For non office hours, alternate/sorry message is played out and customer can leave the voice mail or can reach emergency numbers!
What is a voice mail?
During non-working hours, customer can leave a voice message and request for call back. Audio message recorded by caller is emailed to the executives for all the calls received during non-working hours. Calls details are also available in the dashboard.
How much time is needed for the Set up?
Once we allocate a single number to you, you can immediately start. Configuration and setup takes only 1-2 hours. However we require 24 hours to deliver the account to ensure quality assurance!
Is the single number allocated exclusive for me?
Yes, Single number is allocated only to a single client. There is no multi- allocation of a number.
Am I able to upgrade as my call volumes may increase?
Yes. You are able to upgrade at any time to suit your call volumes. Our support and billing team will provide you the top up plans.
How do I know which plan I should be on to ensure I am paying only for what I really need?
Our basic, standard and advance options are based on the service model. Once you purchase a plan and login you will be able to view and configure the Virtual Receptionist based on the plan purchased by you.
How is the billing done?
Virtual Receptionists plans are prepaid and billed yearly. For any extra call usage customer is sent via a post paid bill.
How many staff members can be configured to receive calls?
You can configure any number of staff members – 2,3 ,5 10 and more. Based on your business logic and plan you can create multi-level and multi-department system (press 1 for sales, press 2 for support etc.). In each department you can configure multiple staff/executives.
How are calls transferred to the Staff/Executives?
Calls are transferred based on Ringall, Round Robin etc. methods. In Round Robin calls are transferred one by one to the Staff members. If a Staff member is busy or does not pick up the call then call is transferred to the next free Staff member. In Ringall, system dials the call to all the Staff members and who ever picks up the call, is connected to the caller.
What other service can I avail?
We provide a unified messaging experience to the customers. If need to communicate to your users using SMS and Email ,we can provide you the solution.
How is Single number charged?
We provide a 10 digit single number for the Virtual Receptionist and it comes free with the Plan.However if customer requires a premium 10 digit number than one time charges are applicable!